Vedi tutti gli Eventi
Hop The Tower – Pisa Swing Festival 2023
Dal 10 Febbraio 2023 al 11 Febbraio 2023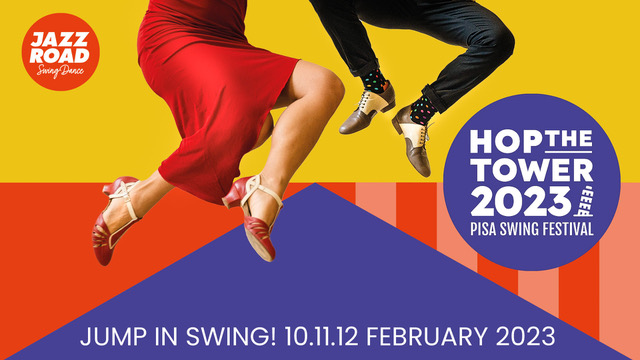 HOP THE TOWER – PISA SWING FESTIVAL IVEd
10/11/12 FEBRUARY 2023
Stazione Leopolda – Jazz Road Lab (Pisa – Italy)
LIVE BANDS | DJ SETS | GUESTS | ARTISTS | DANCERS | VINTAGE MARKET
Ballerini, musicisti, appassionati… siete tutti invitati alla quarta edizione di HOP THE TOWER – PISA SWING FESTIVAL 2023!
Tre giorni di lezioni di Lindy Hop e Jazz Roots con Insegnanti internazionali e tre incredibili serate con live bands e dj sets in due locations nel centro di Pisa:
la storica stazione ferroviaria Leopolda e al Jazz Road Lab, in Via Bovio, 11

We are excited to announce the 4th edition of the HOP THE TOWER – PISA SWING FESTIVAL 2023!
This year's edition will feature classes in Lindy Hop and Jazz Roots from international teachers, live bands, dj sets and three grand parties! All parties and lessons will take place in one venue in the center of Pisa: the historic Leopolda train station and Jazz Road Lab. Come to dance and party with us and enjoy the fascinating setting of Pisa!
BOOKING: www.pisaswingfestival.it
Prezzi scontati fino al 15 gennaio 2023 e una maglietta omaggio!
Discount and one festival t-shirt until 15th january 2023
Lindy Hop 5h (4 Levels)
Solo Jazz 4h (2 Levels)
Taster Class 2h
3 Parties
TEACHERS:
ARI & SIMON
FREDRIK DAHLBERG
FRIDA HÄGGSTRÖM GERDT
NEJC ZUPAN
JENNA APPLEGARTH
JULIA & SIMONE
BANDS:
DUSTY JAZZ BLASTER (Torino)
ROAD SWING BAND (Tuscany)
DAISY & UNCLE (Tuscany)
DJ: Spine & Ceccarelli
www.pisaswingfestival.it
https://www.facebook.com/events/855136095687376/