Vedi tutti gli Eventi
Swing It Dusty – Absolute Dancing Nite
Dal 12 Gennaio 2019 al 13 Gennaio 2019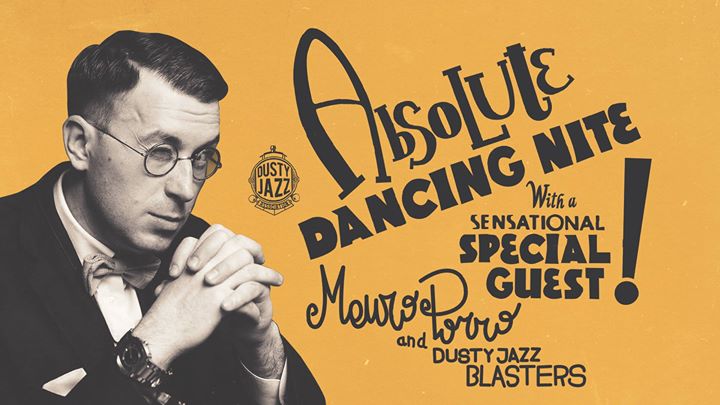 Swing IT Dusty
ABSOLUTE DANCING NITE
Teatro Espace
Via Mantova 38 – Torino
Ingresso con consumazione 10€
In collaborazione con Teatro Espace
Poche chiacchiere e tanto BALLO…una NOTTE dedicata alla PURA SOCIAL DANCE con un ospite d'eccezione. A condividere il palco con i Dusty Jazz Blasters il TALENTO di Mauro L. Porro – artist's page! Trovate la sua BIO allegata qui sotto con collaborazioni da far tremare le gambe.
In console le selezioni di Mr Rhythm the Swing Selecta.
Quindi…REVISIONATE le vostre scarpe da ballo perchè ci sarà da BALLARE allo sfinimento.
Saranno presenti alla serata:
> Civico 28: TORTE e affini
> Vintage and More: MODA e abbigliamento 'Hand Made'
> Lo sbarbato: Barber's ART con possibilità di prenotazione entro le 19 di venerdì 11 gennaio all'indirizzo mail anna.quarenghi@dustyjazz.com
!!! NOVITÀ !!!
PRESENTANDO la TESSERA Dusty Jazz, il Café BLOOM proporrà una convenzione del 10% di sconto sulle scelte del loro menu.
Mauro Porro BIOGRAPHY:
Widely recognized by the music community and defined by the international press as "one of the most brilliant talents of the European Classic Jazz scene", he also plays tenor/soprano/alto/c-melody/bass saxophones, clarinet, trumpet, cornet and percussion, specializing in all vintage jazz and swing styles.
For inspiration and reference Mauro looks to the likes of Arthur Schutt, Alex Hill, Frank Signorelli, Fats Waller, Teddy Wilson, Eddie Heywood, Enzo Ceriagioli, Freddie Johnson, Herman Chittison, Mel Powell, Stanley Black, Dave Brubeck for piano; Ben Webster, Lester Young, Charlie Ventura, Coleman Hawkins, Vido Musso, Herschel Evans and Stan Getz for tenor saxophone; Adrian Rollini for bass saxophone; Ed Cuffee, Charlie Shavers, Sharkey Bonano, Manny Klein for trumpet and cornet; Jimmy Dorsey, Russell Procope, Piero Rizza, Scoops Carey and Paul Desmond for alto saxophone; Omer Simeon, Jimmy Dorsey, Izzy Friedman and Danny Polo for clarinet; Frankie Trumbauer and Jack Pettis for c-melody saxophone; and Stan King, Vic Berton, Chauncey Morehouse for percussion.
From the age of 17, he has regularly performed with the "Milano Jazz Gang" (www.milanojazzgang.com), one of the most famous Italian classic jazz orchestras, sitting in the chair where the great Rossano Sportiello and Paolo Alderighi had previously played piano. The band was later joined by the German trumpet player Herbert Christ.
He has performed in Italy with Lino Patruno, Paolo Tomelleri, Gianni Sanjust, Alfredo Ferrario, Carlo Bagnoli, Stefano Bagnoli, Rudy Migliardi, Michele Bozza, Claudio Perelli, Christian Meyer, Paolo Alderighi, the Milano Hot Jazz Orchestra, Milano Jazz Gang, and many many others.
Elsewhere he has performed with Christoph Wackerbarth (D), Herbert Christ (D), Matthias Seuffert (D), Martin Seck (D), Keith Nichols (UK), Martin Wheatley (UK), Richard Pite (UK), Nick Ward (UK), Enrico Tomasso (UK), Michel Bastide & The Hot Antic Jazz Band (F), Aurelie Tropez (F), Jean-Francois Bonnel (F), Michel Bescont (F), Cecile McLorin Salvant (F/USA), Ger Booiman (NL), Andor's Jazz Band (NL), Limehouse Jazz Band (NL), Kristoffer Kompen (NO), Gunhild Carling (S), Frans Sjostrom (S), Bent Persson (S), Michael McQuaid (AU), Andy Schumm (USA), Josh Duffee (USA), David Boeddinghaus (USA) and many many others.
In 2005 he was a member of the "Melodians", the international Hot Jazz orchestra led by the Dutch trombone player Jack Van Elewout, which plays in the Breda J.F. every year.
In 2009 he participated as an actor and historical consultant (providing original vintage instruments) in the Italian RAI movie production "Le Ragazze dello Swing", dedicated to the memory of the "Trio Lescano", a very famous Italian female jazz vocal trio during the 1930s and 1940s .
He has appeared regularly as a guest at the annual Mike Durham's "Classic Jazz Party", an international event held in England, which brings together 36 top international musicians specializing in authentic Hot Jazz music.
Mauro is also director of various projects, ranging from hot jazz to swing to be-bop, including a long partnership with one of the youngest '1920s style' bands in the world, the "Chicago Stompers" from Milan (IT).
He has appeared at various European jazz festivals in Italy, Greece, France, Germany, Holland, Denmark, Sweden, Hungary, England, Portugal, Spain and Switzerland.
Mauro is a proud collector of 78rpm jazz records, sheet music and instruments from days gone by. His greatest pleasure comes from writing arrangements and transcriptions of records from the 1920s, 30s and 40s.
He is also an arranger for an Italian recording company and various jazz combos both in Italy and Europe. Recently, he even arranged for Vince Giordano's Nighthawks in New York City.